Finding the Best Knee Brace for Golf — Everything You Should Know
Did you know that golf puts a lot of pressure on your knees whenever you bend down to place a tee or swing the club? This makes it is quite common for golfers to experience knee pain at some point in their careers.
A knee injury often worsens over time, thus requiring surgery and ending your promising golf game. Finding the correct knee brace for golf becomes a priority when you experience knee discomfort while playing. Doing this ensures you prevent and relieve knee injury and pain before it turns chronic... so you make it to the 19th hole.
In this article, we take a comprehensive look at what causes golfer knee pain and how to find the correct knee brace for golf. Read on, to ensure you protect your knees and extend your golfing career.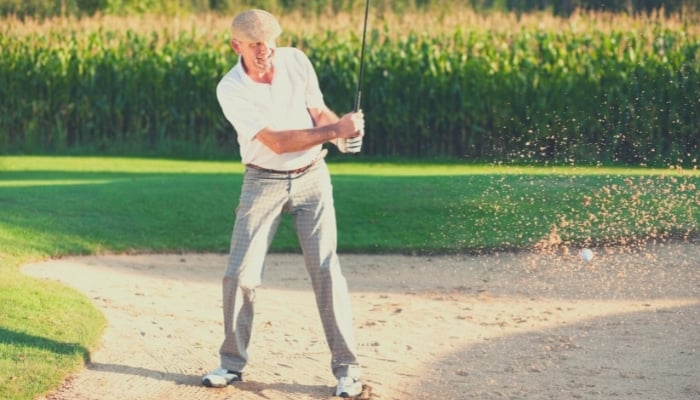 What Causes Golfer Knee Pain
According to the National Library of Medicine, knee damage can happen to any golfer—and at any time. Contrary to what most people believe, skill level has nothing to do with knee problems. A golf swing exerts a tremendous amount of force on your knees, especially the leading knee. Knee pain is somewhat common among the older generation and can aggravate existing injuries.
According to another team of researchers, those under 40 can experience knee pain as a result of an acute injury during play. Those above 40 most likely suffer chronic pain from years of repetitive use. Every golfer is prone to experience knee injury and the resulting pain. Below, is a list of the causes:
Soft Tissue Injuries
Placing extreme force on the knee joint while golfing can tear cartilage and/or ligaments. Damaging these soft tissues will result in knee pain. Depending on the skill—or lack of skill in the golfer—damage to the cartilage and ligaments occurs from twisting and compressive forces.
Further Injuries to Existing Knee Conditions
Existing injuries or weakness are more susceptible to further injuries and increased pain. For example, arthritis sufferers are more likely to experience increased knee pain due to the constant inflammation in the area.
Overuse
Most knee injuries occur due to poor swing mechanics, muscle imbalances, and overuse. Proper warm up and strengthening procedures may help you prevent further injury and increased pain. Obviously, good body and proper swing mechanics during your golf game can help minimize the risk of injury. The most common recovery for overuse injuries is to stop golfing until the injury has healed. For most golfers, this is not a treatment option that is easily accepted.
What to Consider When Purchasing the Best Knee Brace for Golf
Knee braces will help you curb knee pain and possibly avoid the need for surgery. However, you need to pick the correct knee brace for you. Before browsing, review the following:
Quality and Durability
Quality and durability are a paramount consideration in selecting a knee brace. Knee braces designed for golf need to be wear and tear resistant. A quality and durable brace will assist you in your active lifestyle.
Comfort and Stability
Because you will be using your knee brace(s) on the course, it needs to be comfortable and supportive. Comfort cannot be overstated since you will be wearing your brace for extended periods of time. Ensure you find a knee brace that offers optimal support and uses skin-friendly materials.
An osteoarthritis knee brace is useful to improve knee alignment which may help prevent further deterioration of the injured knee. An osteoarthritis knee brace helps keep your knees in the proper alignment during the aggressive motion of a golf swing.
Find Golf Knee Braces Today
Dealing with knee pain starts with finding the best golf knee brace to suit your needs. At Elite Medical Supply, we can help make you more comfortable on the course with our extensive line of knee braces. Ensure you contact us today to find something that best suits your needs.
Medicare Beneficiary Eligibility Lookup
Enter your ZIP Code to determine if you are in a location where we provide bracing products as a Medicare covered benefit.