Lower Back Pain - Lumbago
Pain in the lower back is generally referred to as lumbago. There are a variety of conditions and diseases that can lead to lower back pain. The lower back pain associated with lumbago can be acute or chronic.
Lower back pain is on the rise as we spend more time hunched over mobile devices and sitting at desks. These sedentary activities, when coupled with bad posture, increase the likelihood of lumbago.
What Is Lumbago?
Musculoskeletal pain in the lower back is generally referred to as lumbago. The term lumbago has been replaced with colloquially referring to the condition as lower back pain. Essentially, lumbago and lower back pain have the same meaning.
Lower back pain can start as an infrequent condition that is exacerbated as the condition worsens. You may experience lumbago from muscle strain that worsens and results in spasms. Other health conditions such as spinal problems that result in stenosis or sciatica can cause acute lower back pain that also effects the hips and legs.
Risk Factors
You may be at risk for lumbago based on your daily activities or lifestyle choices that negatively impact your health. Other risk factors include:
Individuals who perform repetitive lifting of heavy objects
Sports that strain the back
Health issues such as osteoarthritis, rheumatoid arthritis, diabetes
Poor joint and bone structure
Smoking
Excessive stress
Overweight
Causes
There are a variety of factors and conditions that cause lumbago. It is important to gain a complete understanding of the symptoms caused by lower back pain to ensure your treatment program is successful. Some factors that contribute to lumbago are:
Muscle strain

Obesity

Poor posture

Acute spinal injuries

Slip and fall accident

Sports injury

Car accident

Medical conditions

Osteoarthritis
Osteoporosis
Fibromyalgia
Scoliosis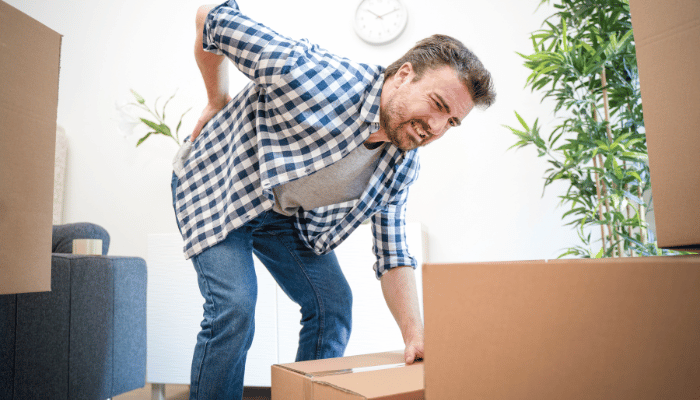 Symptoms
The main symptom of lumbago is pain in the lower back. The lower back pain is typically felt as muscle pain but can also include radiating pain or numbness and tingling. Other symptoms include:
Pain while walking, lifting, standing, sitting, and twisting
Lower back muscle stiffness
Lower back muscle spasms
Pain increasing during physical activity
Radiating or tingling pain in the back, buttocks, hips, legs, and feet
Restriction of trunk movement due to pain and/or stiffness
Pain that radiates to the buttocks, hips, legs, and feet can be caused by sciatica. Many spine related conditions can result in sciatica pain which originates in the back. You can read about sciatica in our blog article Understanding Sciatica.
Symptoms lasting 3 months or longer are generally considered chronic. When symptoms persist and result in chronic lower back pain, they are typically related to a disc condition, nerve issue, and/or joint problem.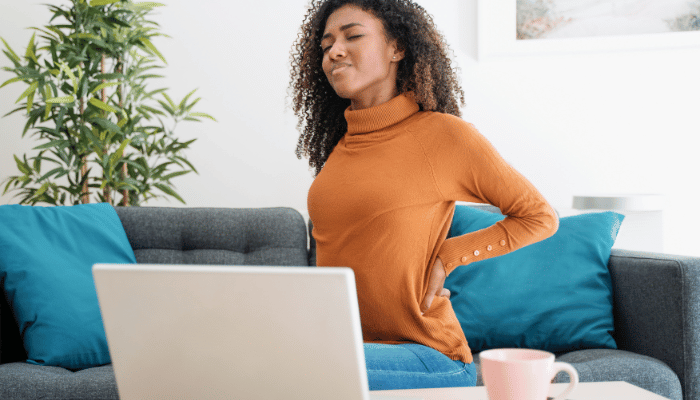 Diagnosis
Your healthcare provider will perform a physical examination on your lower back during your visit. Some lower back pain resolves itself on its own over time. It is advisable to see a healthcare provider if your lumbago persists for 4 or more weeks. See a healthcare provider sooner if you are also experiencing debilitating pain, loss of bladder control, or extremity weakness.
The physical examination can include manual tests to pinpoint the location of your lower back pain. Examples of tests which may be performed are:
CT scan
MRI scan
Myelogram
X-Ray
We discuss some tips for communicating with your doctor at your next appointment in a previous blog. You may find the information in this blog helpful for your next visit. Another blog we suggest before your next visit discusses how to talk to your doctor about pain.
Treatment
Many conservative treatment options are available if you are suffering from lumbago. Treatments range from physical therapy to rest. Invasive surgical options should be reserved until you have exhausted all conservative treatment options and the pain makes it difficult or impossible to perform daily activities.
Treatment Options
Treatment options include:
Rest
RICE (Rest, Ice, Compression, Elevation)
Stretches, yoga, and low-impact exercises
Hot or cold compress
Medication such as nonsteroidal anti-inflammatory drugs (NSAIDs) or steroid injections
Physical therapy
Occupational therapy
Chiropractic care
Acupuncture
Prevention
Maintaining a healthy lifestyle and avoiding strenuous overuse of your back can minimize lumbago symptoms. Other preventive actions such as quitting smoking and managing unhealthy habits are also helpful. Be sure your diet and supplements include vitamins and minerals that maintain healthy bones and muscles. It is also important to have good posture which helps maintain a healthy lower back.
Stretching prior to performing activities that are physically demanding on your back allows your body to acclimate prior to heavy use. It is advisable to stretch and take frequent breaks if you perform physical activities at work such as lifting or rotating your midsection.
A back brace is helpful to prevent lumbago if you engage in demanding physical activities. The physical strain of these activities can be minimized and your back will be properly supported through the use of a back brace. A back brace is also useful to provide good posture and remind you when your body begins to slouch.
Back Braces
A back brace is useful to restrict unwanted motion during healing. Your back will be supported by the brace and movement will be restricted. This is important when performing physical activities that have the potential to injure the spine or lower back muscles.
We're Here to Help
The team of experts at Elite Medical Supply is here to help identify the right back brace for your lower back pain condition and recovery. We offer a wide selection of braces from world-class manufacturers to help alleviate the pain and heal your lumbago. Take a look at our selection of back braces by clicking here.
When you're ready to order a brace or need assistance making a choice we're here to help. You can reach us at 866-712-0881, send us an email, or fill out a contact form.
Medicare Beneficiary Eligibility Lookup
Enter your ZIP Code to determine if you are in a location where we provide bracing products as a Medicare covered benefit.