Product Highlight: Aspen Active™ P-TLSO
Product highlights from Elite Medical Supply will provide educational information on the recommended usages for each product that we carry. Today on the blog, we are featuring the Aspen Active™ Postural-TLSO.
The Aspen Active™ Postural-TLSO is a lightweight, adjustable brace designed to address the symptoms associated with poor posture often due to prolonged use of electronic devices/technology. While actively influencing a patient's posture, the brace provides gentle support while activating postural stabilizing muscles.
This product helps train the body to hold neutral posture by concurrently stretching and strengthening the structures that have become tight and deconditioned over time due to poor posture.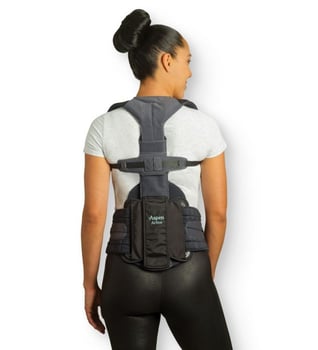 Active Influence
The NEWmatix™ System provides a gentle reminder to the patient to pull the shoulders back and down, similar to a scapular squeeze exercise performed in physical therapy. This system is designed to activate muscles to achieve a natural neutral posture. The conveniently located air pump allows the user to inflate the NEWmatix™ System to their preferred pressure placing the spine in a proper neutral position.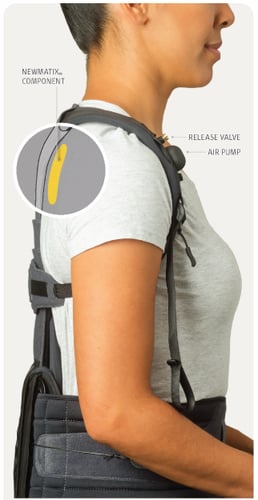 Proper spinal alignment with the aid of active influence treatment.
Features
The following product features help train the body to hold a neutral posture and correct negative posture conditions.
One-Size Adjustable
The P-TLSO is easily adjustable to fit a wide range of waist sizes. The side panels are marked with 4 sizes that range from 24 - 50 inches.
The sizing guide is used to determine which size a user should adjust their P-TLSO to for an effective fit.
Sizing Guide

Size
Waist Circumference
1
24 - 34 in
61 - 86 cm
2
32 - 40 in
81 - 102 cm
3
38 - 46 in
97 - 117 cm
4
44 - 50 in
112 - 127 cm
Adjustable Shoulder Strap Height
Telescoping shoulder straps provide 6 inches of height adjustment to fit varying patient anatomies. In addition, circumferential adjustability enables a customized fit
for every body.
Step-down Treatment Design
As patient progresses through treatment, the brace can be stepped down. The shoulder straps and lumbar belt can be removed and worn independently.
Independent Tightening Mechanism
Aspen's patented 4:1 mechanically advantaged SlickTrack™ System features an independent upper and lower tightening mechanism, providing direct compression where needed to support tight muscles.
Low-Profile
The P-TLSO is low-profile allowing the user to wear it during daily activities to achieve proper spinal alignment.
Indications For Use
The Aspen Active™ P-TLSO can be used to treat the following conditions.
Postoperative support
Spondylolysis
Spondylolisthesis
Spondylosis (Osteoarthritis/Degenerative Joint Disease)
Many of the conditions listed above have been discussed in blog articles on this site. Click on the links above in the indications for use list to read more about the condition.
Contraindications
Do not use the product if any of the following contraindications pertain to you.
Hypersensitivity or allergies to any of the materials from which the brace is made.
Swelling of the lymphatic tissue caused by circulatory disorders.
Patients who are not allowed to wear a brace according to medical instructions.
Additional Product Info
The Aspen product overview video shows users wearing the P-TLSO and offers other helpful information.
The P-TLSO instruction manual can be viewed by clicking here.
We're Here to Help
The team of experts at Elite Medical Supply are here to help identify the right brace for your spinal stenosis condition. We offer a wide selection of braces to help alleviate and treat your painful condition. Our braces can be viewed by clicking here.
When you're ready to order a brace or need assistance making a choice we're here to help. You can reach us at 866-712-0881, send us an email, or fill out a contact form.
Medicare Beneficiary Eligibility Lookup
Enter your ZIP Code to determine if you are in a location where we provide bracing products as a Medicare covered benefit.